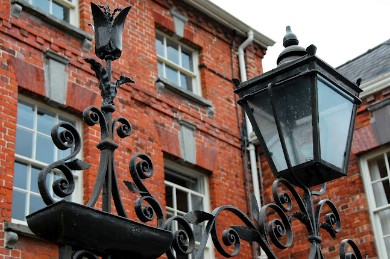 About Jeffreys & Powell
Established for over 100 years Jeffreys & Powell is a traditional firm of Solicitors providing high quality legal advice coupled with excellent client support.
We offer a comprehensive range of legal services,
including Commercial and Residential
Conveyancing, Landlord and Tenant, Inheritance Tax
Planning, Agriculture including Partnership advice
and Agreements,
Wills, Trusts and Probate, Lasting
Powers of Attorney, Civil Litigation and Family Law
including Pre-nuptial Agreements
We were licensed as an Alternative Business Structure in May 2013
We were established in 1901 and were initially based in Castle Street. The firm moved to Lion Street in the 1950s. Our client base is largely agricultural, but certainly not exclusively so. We aim to provide a wide range of legal services to meet the needs of all of our clients. We reluctantly took the decision some years ago, and as a result of changes to the structure of public funding, not to undertake any legal aid work, nor do we deal with criminal cases. We are committed to providing a high standard of service in all private client work. We are a two partner firm and acquired our licence as an Alternative Business Structure in May 2013. The Partners are Sian Morris and Chris Morris. We are currently working towards the Conveyancing Quality Standard, and the Wills Quality Standard. We have three solicitors in addition to the partners, as well as five support staff.
Our Brecon Office is open 9.00am to 5.00pm Monday to Friday. We are more than happy to visit you at home (distance permitting) or to arrange appointments out of office hours and on Saturdays.
As well as our office in Brecon, we can accommodate appointments in Builth Wells by prior appointment. Please telephone the Brecon office to arrange.
Our Equality and Diversity data is available for inspection at Reception here in the office.
OUR TEAM:
SIAN MORRIS
Sian was born and educated in Brecon. She graduated from Aberystwyth University in 1978, and after attending Law School in Chester, completed her Articles with Jeffreys & Powell in 1981. After a break to raise her family, Sian returned to the legal profession in 1987, and to Jeffreys & Powell in 1990. In her spare time, she enjoys gardening, walking the dog, and doing sudoku puzzles.
Areas of expertise:
Wills, Trusts and Probate
Inheritance Tax planning
Tax
email address: sian.morris@jeffreysandpowell.co.uk
CHRIS MORRIS
Chris was also born in Brecon, and was educated in Brecon, Derby and Swansea. He started working for Jeffreys & Powell in 2010 as cashier and became a non- fee earning Partner and Practice Manager in 2013. In his spare time he enjoys reading, playing guitar, as well as watching football.
email address: chris.morris@jeffreysandpowell.co.uk

JAMES ANDERSON
James was born and brought up in Middle England, and qualified initially as an agricultural engineer. Subsequently switching to the Law, he completed his training contract with Coventry City Council, during which time his interest in agricultural law and the law relating to Commons grew. Later, he moved to a firm of solicitors in Swansea, where his property litigation skills came to the fore. In 2006, he joined Jeffreys & Powell, and has since dealt with all aspects of Commercial, Agricultural and Landlord & Tenant matters. In his spare time, James enjoys mountain biking in the hills between Brecon and Swansea, and previously also enjoyed mountain-climbing all over the UK.
Areas of expertise:
Commercial coveyancing
Residential conveyancing
Commercial and residential landlord and tenant
Agricultural matters
Wills, Probate and Inheritance Tax planning
Partnership matters
email address: james.anderson@jeffreysandpowell.co.uk
FIONA LYON
Fiona attended the University of Wales College Cardiff to obtain her Honours Degree in Law, before attending at the College of Law Guildford to complete her Law Society Finals.
Fiona's training contract was completed at Druces & Attlee in the City of London, but on qualification she moved to practise in Lincolnshire. Since then, Fiona's legal career has taken her to South London, Birmingham, Wiltshire and Northern Ireland, before she returned to practise in Wales.
Fiona is a member of Resolution, having previously been a longstanding member of that organisation's predecessor, the Solicitors' Family Law Association.
In her spare time, Fiona and enjoys walking with her family, good food, good coffee, and a good book.
Areas of expertise:
Family law
Lasting Powers of Attorney
Civil Litigation
Property disputes
Partnership matters
Probate
email address: Fiona.lyon@jeffreysandpowell.co.uk
LAURA THOMAS
Laura has recently joined our team, and her details are currently being updated.
Areas of expertise:
Residential conveyancing
email address: Laura.Thomas@jeffreysandpowell.co.uk